Our offer "Wi-Fi on Board"®
Because the transport of tomorrow must be turned to digital, free WiFi onboard is a major asset which increases the satisfaction of your users by promoting your services. The "WIFI On Board" QOS Telecom® offer has already attracted many carriers who trust us. "WIFI On Board"® is available for buses, coaches, trams and Trains but also for Taxis and VTC.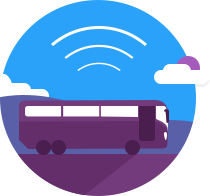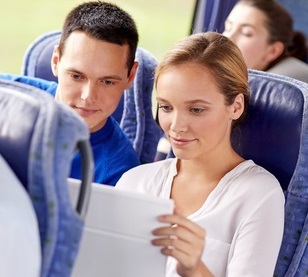 Benefits for travellers
Satisfaction by the addition of new services (there is a need and a growing expectation for all, a fortiori in situation of mobility and connectivity everywhere)
Provide internet access through their own terminal (Smartphone, tablet or PC laptop)
Financial economics on their package data mobile 3G / 4G (these are more unlimited and uses of types Streaming video (YouTube), social networks (Facebook, Instagram, etc.), gourmands in amount of data grow exponentially)
Possibility for users of shelves without SIM card of stay connected through WiFi
Benefit from better throughput in WiFi and 3G / 4G (the solution implements the antennas on the roof of vehicles that can get rid of the attenuation of the signal 3G radio / 4G inside vehicles)
For foreign visitors in France on-board WIFI allows them not to use their 3 G - 4 G package 'in roaming.
Benefits for the organising authority and/or operator
Bring new innovative services
Be able to use WiFi as a new media for communication operations support (possibility to inject content while users browsing)
Share the WiFi infrastructure deployed with business applications (video, SIV, etc...)
Using the WiFi terminals as sensor, to have data 'analytics' to complete lines attendance information.