Tours Métropole inaugurated on Friday 5 May 2017 its 100th public WiFi terminal on the RV area in Saint-Genouph, a small commune in the vicinity of the Tourangelle agglomeration. Dubbed WITM, the public WiFi of Tours Métropole is available on 51 sites and continues to extend with today 100 terminals spread over 13 communes of the agglomeration territory.
After a first experiment initiated by Tours Métropole Val de Loire, from September 2015 to March 2016 on a few sites such as the tourist office of Luynes and Rochecorbon, the banks of the Loire or the Guinguette, the large-scale deployment of the public WiFi began in June 2016 on the whole of the metropolis.
Geographical location of the WiFi terminals on Metropolis Tours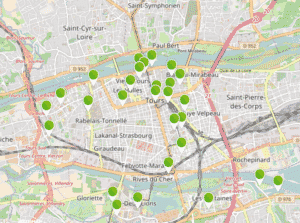 The aim of this mesh of the public WiFi is to provide a quality connection to the inhabitants as well as to the tourists. To do this, the metropolis has called QoS Telecom for its quality of services and equipments and has connected most of the public WiFi terminals to the fiber optic already deployed inside the metropolis. Thus, the WiFi terminals are able to offer without problem a broadband WiFi connection to more than one hundred simultaneous users.
Thanks to this quality of public WiFi service at the scale of the metropolis, the public success was very quickly at the rendezvous, since in one year the direction of the information systems of Tours Métropole has recorded 1.2 million connections to the public WiFi, with in particular a high peak of hearing on the sites of the city hall of Tours, the campsites of Savonnières and Villandry and the Ginguette on the banks of the Loire.
It is of course during the summer that connections are most frequent with 80 000 connections during the summer of 2016. The public officials of Tours Métropole are therefore very confident that the summer of 2017 will be the occasion for an even higher use of the public WiFi, since the metropolis continues to equip itself with new terminals, some of which sometimes in places more isolated from small communes close to towers.
The 100th public WiFi terminal installed by QoS Telecom has for example been placed on the camping-car area of Saint-Genouph with as a peculiarity to be totally autonomous. At the request of the metropolis, QoS Telecom has equipped this WiFi terminal with a solar panel and a 4 G connection for the reception of the internet signal which makes it perfectly autonomous in a relatively isolated place on the energy plane and Internet access.
A public WiFi project in your city