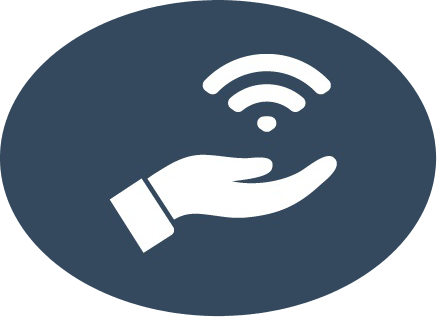 Our commitment
We offer a bespoke, integrated and end-to-end to meet the needs of deployment of WiFi HotSpots. We guarantee the evolution of your networks to the uses of digital marketing. These commitments are based on our "know-how" in design, implementation and operation of WiFi networks. The success of such projects requires the use of multiple and very specific skills.
The success of such projects is based both on the quality of design, the quality of the implementation and the quality of technical operation. The implementation of a public WIFI network is a project that must be in compliance with certain rules as well as legal techniques.
QOS Telecom gives you the guarantee to provide you with operator-class services and a suitable economic model.
Review details of our commitment in WIFI infrastructures and services based on multi-disciplinary technical teams...
Fully managed WIFI network
Pour proposer une solution éprouvée, pérenne et sécurisée, QoS Telecom a construit sa solution en s'appuyant sur une infrastructure réseau déjà déployée qui accueille aujourd'hui plus de 35 millions de connexions WIFI par an.
QOS Telecom holds licences operator L33.1 (code ARCEP R138) and L.I.R. (Local Internet Register). As such, it operates fully managed WIFI networks.
QOS Telecom offers a platform of transit IP hosted in a datacenter in the Paris region and servers redundant for its Wi-Fi infrastructure management and authentication simple and secure users of all its 'hot spots.
QOS Telecom can provide all the legal obligations in accordance with the European Directive 2006-24-CE and french Decree of 24 March 2006. QoS Telecom is to ensure that legal responsibility on behalf of its clients.
Digital marketing
Beyond a 'simple' solution Telecom, your WiFi network can evolve into a new marketing support. QOS TELECOM solution to enhance your brand using WIFI to communicate events or information destined for users.
The economic model of the "free WiFi" can also be improved by offering to share advertising revenue thanks to injection before content, after authentication, but also while browsing. This service allows you to deliver a custom message to connected users in real-time. This by injecting banners, photos or videos directly in the browser of the user session.
Choosing technological "Best of Breed".
The "Best of breed" approach is to search the market for the best components, function by function, and to assemble them to build a tailor-made one. QOS Telecom brings market-by-market an ecosystem of partners each leader in its field in order to bring proven, perennial, scalable solutions with a constant search for techno-economic optimization.
Mode project organization
Specializing in the deployment of wireless networks, QOS TELECOM regularly enriches its methodological approach valuing the experience gained on previous deployments. QoS Telecom has the Organization and the technical means necessary for the deployment of large wireless networks. As such, the organisation of society is based on operation "project mode" to pressing operational teams.
Project and engineering
Team 'Pilot project', with notably a project manager directly attached to the Directorate-General of the enterprise, a quality engineer and a team 'Engineering', carries out an audit of the existing and needs and is studying infrastructure WIFI to specify sizing radio and IP.
Installation and commissioning
The team "installation and commissioning" is based on a case manager and a network engineer. They manage the deployment and setup of your public WiFi HotSpots project. They are also responsible for the recipe and your network validation phases.
Operation
Finally, a 'holding' team ensures the continuity of the technical operation of the WIFI network. It is especially in charge supervision, administration, technical HotLine and maintenance missions.